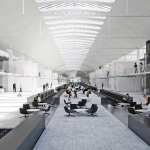 De nouveaux acteurs économiques autoproclamés « accélérateurs » n'ont pas attendu le rapport remis cet été par Jean Pisani-Ferry à François Hollande : « Quelle France dans 10 ans ? » : selon l'auteur, trois lignes de force dessinent l'entreprise du XXIè siècle : la formation par-delà le diplôme, l'essor des technologies notamment numériques, l'aspiration sociétale des nouvelles générations vers plus d'autonomie et d'épanouissement dans le travail.
Le plus grand incubateur du monde
Trois longues nefs, de grandes verrières, des voûtes de voile mince en béton armé, des auvents extérieurs qui courent le long des façades sur plus de 300 mètres de long, 70 mètres de large et 16 mètres de haut : bienvenue à la Halle Freyssinet dans le 13e arrondissement de Paris.
Conçue en 1927 par Eugène Freyssinet, la Halle éponyme accueillait alors le centre d'expérimentation de ses deux inventions, le compactage du béton par vibration et le béton précontraint. L'ingénieur des Ponts et Chaussées pouvait-il imaginer que son immense ouvrage, quoique marqué du sceau de l'innovation, allait accueillir le plus grand incubateur du monde?
Vous avez bien lu : la Halle Freyssinet accueillera, dès 2016, près de 1000 startups sur plus de 30.000 m2. Une première mondiale. Cette future locomotive de l'entrepreneuriat verra le jour grâce au partenariat entre la Ville de Paris, la Caisse des Dépôts et Consignations et Xavier Niel, co-financeurs.
Ces startups bénéficieront d'un espace de travail unique pour émerger et transformer leurs projets en véritables entreprises de rang mondial. La Halle Freyssinet offrira des espaces de coworking, un Fab Lab (imprimantes 3D en accès libre), un grand auditorium, des salles de réunions, de larges espaces de travail, un immense bar-restaurant  ouvert 24h/24, autant de lieux de rencontres, d'échanges et de liberté. Unique par sa taille et sa modularité, ce lieu participera à faire de Paris, ville numérique, la capitale la plus innovante d'Europe!
38,2 °C le matin.
Un phénomène aura préfiguré la sortie de terre de la Halle Freyssinet : une douce fièvre saisit en effet l'entreprenariat depuis presque 10 ans en France. La poussée est parisienne mais pas seulement…
En 2005, à Mountain View, Paul Graham initie une deuxième génération d'accélérateurs privés (après celle de la nouvelle économie). L'idée principale consiste à fertiliser le projet de l'entrepreneur en laissant les coudées franches à ce dernier. Et ce, sur une période circonscrite à 3 mois promis à une folle densité.  Le Y Combinator est né et fait école : la même année à Paris, Advancia crée un « générateur d'entreprises » deux ans avant le Seedcamp Outre Manche lequel essaime depuis partout en Europe. Toujours sur ce modèle d'échanges fiévreux, en 2011, L'association Silicon Sentier invente le Camping : chaque semestre, 12 startups bénéficient de conseils de 60 mentors et d'événements comme l'Investor Day, où les projets sont pitchés devant 100 investisseurs européens. Google est partenaire du Camping et offre 4 500 euros à chaque projet débutant. Marie-Vorgan Le Barzic, secrétaire générale de l'association, désormais baptisée NUMA, complète : « on nous compare à une salle de sports. Nous y accueillons des athlètes. Avec notre concours, ils franchissent des paliers et peuvent atteindre un très haut niveau. » A chacun des trois premiers étages de ce building entrepreneurial, sis rue du Caire à Paris,  des tablées câblées couvent ou peaufinent de potentielles pépites. Frédéric Mazzella, le fondateur de Blablacar s'est adossé à NUMA pour y conduire ses états d'usage à l'heure de basculer en modèle payant.  TWITTER a récemment fait l'acquisition de MESAGRAPH, startup qui aura campé ici.  Vous voulez rêver le futur ? Un seul exemple, allez voir DREEM(1) où comment notre sommeil peut améliorer nos performances quotidiennes.
Performer, nous y voilà. L'accélération charrie son lot de turbulences. Parce que les accélérateurs s'investissent désormais plus qu'ils n'investissent, ils réfléchissent, infléchissent voire triturent le projet initial ! Adrien Mirguet, cofondateur de VINOTRIP en témoigne…et en redemande :
« Une réunion « électro-choc » nous a d'autant plus secoués que nous partagions la plupart des constats de nos mentors. Si nous restons convaincus que l'oenotourisme est une lame de fond, cette remise en cause complète de notre modèle est très exactement ce que nous sommes venus chercher à L'Accélérateur car, seuls, la tentation est forte de raisonner en déformation d'un historique, jamais en rupture… »
La posture mentale la plus à rebrousse poils du (petit) monde des accélérateurs se cristallise dans les initiatives tranchantes du groupuscule « the family ». Pourfendeurs du « business as usual » et sectateurs du « growth hacking », ou comment acquérir des clients sans payer, le disruptif trinôme fondateur de cette famille(2) qui a déjà fait éclore 160 startups depuis sa création en février 2013, postule que « tout le monde peut entreprendre. « En 1995, il fallait 1 million d'euros pour lancer une entreprise numérique. Il en faut 15 000 aujourd'hui». Erika Batista, membre de ladite famille, poursuit : « The family prend 3% du capital des startups qu'elle élève. Nous faisons tout pour que la jeune entreprise atteigne le point mort dés la première année. » A la question des profils recherchés, Erika répond : « Nous misons avant tout sur des esprits « naughty ». Traduisez irrévérencieux.
Ce même désir de faire émerger et grandir l'excellence doublé d'un défi à l'endroit des institutions et du système éducatif habite Antoine Amiel, fondateur à 23 ans de Learnassembly.com. « je veux une université libre et participative pour entrepreneurs » déclare t-il. Ambition établie sur le trépied suivant : primo, démocratiser les compétences (pour 49 euros, on peut passer 2h30 au contact d'un expert en community management). Secundo, le fond et le format doivent s'adapter au public. Tertio, chacun de nous est condamné à l'apprentissage perpétuel !
Quoique surtout parisiennes, ces structures « pousse-jeunes », outre l'accessibilité universelle de certains de leurs contenus grâce au web, s'installent en région. Ainsi le réseau de « Cantines », sur le modèle initié en 2008 par l'association Silicon Sentier distille la fièvre entrepreneuriale à Rennes, Toulouse, Nantes plus une dizaine d'autres lieux associés.
Sous l'aile de grands groupes
Le député-maire de Neuilly-Sur-Seine, Jean-Christophe Fromantin, a innové en 2013 avec une initiative unique en France. Il a créé une pépinière d'entreprises dont les jeunes pousses ne sont pas incubées sous un même toit, mais hébergées au sein de 20 grandes sociétés implantées à Neuilly. Parmi elles, Altran, Chanel, GDF Suez, JCDecaux, M6, UGC ou Warner Bros. Chacune de ces entreprises membre s'engage à offrir à une startup pendant 23 mois, tout le confort physique et l'assistance nécessaire sur le plan technique, les questions juridiques et les ressources humaines, pour qu'elle se concentre sur son développement commercial.
Selon Jean-Gabriel Bliek, le directeur du développement économique de la ville de Neuilly, le programme « Neuilly Nouveaux Médias », compte actuellement 10 startups incubées. En phase d'amorçage, elles ont toutes moins de 3 ans et ont élaboré un service ou un produit innovant. Chaque semestre, 2 à 3 startups sont sélectionnées pour rejoindre l'un des grands groupes Neuilléens. Incubation de luxe, certes mais sélectivité rime avec efficacité: début 2014, hébergée depuis moins d'un an chez Deloitte, Shopmium, une application mobile de couponing, a levé 5 Millions d'euros et a réussi à s'implanter aux Etats Unis.
Incuber, pourquoi pas chez vous?
Environ une entreprise sur deux meurt dans les cinq ans en France. Gageons que chacune des formules évoquées ci-dessus ouvre la voie à une meilleure « vitalité infantile » de nos entreprises. En réduisant « forces de frottement » et en rompant l'isolement de l'entrepreneur, elles favorisent la créativité et libèrent les énergies!
Si l'accueil de jeunes pousses dans une entreprise dessine des opportunités et stimule l'innovation des deux côtés, pourquoi ne pas mettre à disposition un bureau, partager une salle de réunion avec de jeunes entreprises? A l'ère du partage de voitures entre particuliers, pourquoi ne pas imaginer partager et monnayer infrastructures et bon procédés ? C'est peut être l'un des leviers pour développer de nouveaux projets, trouver de nouvelles opportunités pour votre business, et qui sait, participer à l'un des succès entrepreneuriaux de demain?
Thefamily.co